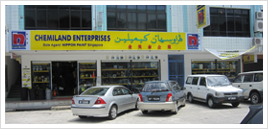 Chemiland Enterprises based in Seria, Brunei Darussalam. Chemiland Enterprises started off as Transportation Company on raw material. Afterward we have moved into contract business, to contract on Government sector, religious affair, shell petroleum, sport club and etc.

In Sept 09, 1982 Chemiland Enterprises has been appointed as sole agent of Nippon Paint Singapore.

On march 01, 1997 we have open our first Retail shop at Bunut Simpang 614, Bangunan Lo Kum Mui, Kampong Bunut, Jalan Tutong. The shop mainly sale paints and hardware.

On May 13, 1999 our second branch are open at Seria town.

May 18, 2001 our third branch open at Kiulap

May 01, 2002 our head branch open at Kuala Belait pandan area.

Sept 27, 2006 our fifth branch open at Delima.

June 06, 2016 our sixth branch open at Sengkurong.

June 06, 2017 our seventh branch open at Tutong.

Decmeber 09, 2020 our eighth branch open at Sungai Hanching.

Chemiland Enterprises now are dealing in Paints, Hardware, Sanitary ware, stainless water tanks, Locks, Safety Products, Power Tools, Machinery, Electrical and even lighting fixture.

Chemiland Enterprises also are the Sole Agent of Nippon Paint, Karcher, Black & Decker, Dewalt power tools, Stanley Tools and Gemini Pumps. Chemiland Enterprises have also agent brand like Philips Bulb, Bostik, MK Electric, King's safetyware, Makita power tools, Hilti and Maju stainless steel water tank.

Chemiland Enterprises are dealing in renovation hardware and our focus is to bring in quality products with affordable price.